The Benjamin Islands are a gem hidden in the North Channel - North of Manitoulin Island in Lake Huron. Manitoulin is the largest freshwater island in the world so the body of water sheltered behind it is still large. These photos were taken during our vacation this past August.
First, here's were you'd find the Benjamins.
We headed to the Benjamin Islands after the successful end of the 2007 Royal Regal Rendezvous which culminated in Killarney - the entrance to the North Channel. Depending on how aggressive you want to be, it'd be a 4 or 5 day boat ride from our marina (Hot Knots) in Lake Couchiching.
The primary anchorage can be found between the North and South Island and is reasonably safe to access. If you want to be more adventurous though, post a bow watch and weave through the many large rocks hanging just below the surface to find your special spot. The good news is that the water is very clear and visibility is good. Just take your time.
Here's our special spot.
We started our stay with a raft of four Regals including a 3560 (Knottiii Grotto), two 4260s (Blood, Sweat & Beers and Jackie J IV) and a 3260 (My Sanctuary). Over the course of our stay some came and went including another 3560 and a 3360. We spent two nights at anchorage.
The Benjamins are a gunkholer's delight. The best spots can be found with a little exploration in your dingy. Each evening, you find dingys circling trying to see who might be moving from that perfect spot. Once we got set-up, we decided to do our own little dingy tour.
Together with our friends, we did a little sunset cruise.
One of the amazing things about this area is how the rocks rise from the depths to form islands and submerged hazards. You can go from 100 feet to zero in an instant. Here for example is one of our friends that was dropped off on one such submerged island. Here she is in a yoga stance.
All around her is 100 feet of water.
Looks as though she's walking on water. Just remember that bow watch I referred to earlier!
Continuing on, we came across these folks having a campfire, on this little rock in the main anchorage.
There's lots here to see and do. This next photo is looking back into the main anchorage around a point. The motor yacht in the shot is a Neptunus, manufactured in St. Catherines, Ontario. the company I work for supplies all of the CAT engines for these beauties which range in size from 55 to 80 feet.
Moving on, we decide to do a little exploring on one of the small islands that surround the Benji's. Here's a shot of the original Jackie J (right) and Kathy performing a little yoga.
It can be a little tricky landing your dingy if there's any wind or current. Basically you're going from deep water to steep, hard rock in an instant. Watch your approach so as not to cause damage to your craft or end up taking an unintended swim.
We thought this would be an excellent opportunity to take a "Christmas Card" photo. Here's the clan.
The orange lichen (moss) on the rocks is incredible. I've never seen lichen of that particular colour anywhere else.
As you can see in the photos, all of the rocks have that smooth texture and round shape reminicent of a pig. For that reason, these little islands carry names such as "The Boar's Back" and "The Sows and the Pigs".
Since everyone else is getting into the act, Greg decides to Ham-it-up on The Sow.
Every direction you look comes with a beautiful view.
Given that the sun is about about to set, we decide it's time to head in for the night.
A short time after we returned to the raft we saw this Canadian Coast Guard chopper buzzing Islands. Obviously something was up. Later we heard that there were reports of a vessel on fire near the North island. Yikes!
The next day was filled with swimming and exploring. Here are a few shots of some of the smaller islands surrounding our anchorage.
Lots of opportunity for photography.
The kids also love to explore in the dingy. At this anchorage, we were lucky enough to be travelling with another family with kids the same age as ours. It's always nice to get a respite from sibling rivalry!
One the second evening, we were blessed with a rare sky watching opportunity. To the south of us, cumulo nimbus clouds turned into a full-blown summer thunderstorm. A spectacular light show. Here's a shot of one of the clouds starting to build and reflecting the sunset onto the water.
Overhead, we had a clear sky showing the full night glory of stars and constellations and to top it off, we had a full moon. It was great. Jason decided to sleep on his sunpad that night under the glory of the stars and hemmed in by his sunpad cover.
The next morning, Jason left early for Gore Bay, leaving just the two of us - The Knottiii Grotto and The Jackie J IV. Just a few days earlier, our fleet was up to 16, mostly Regals.
Given it was beautiful and sunny for our final day, we decided we'd go for a little hike. We understood that there was a trail which crossed the island which we hoped to pick up from our drop off site.
I was hoping to get across the island to that bug smooth rock featured in one of the above photos. We had Greg drop us off at what we understood was the entrance point to the trail.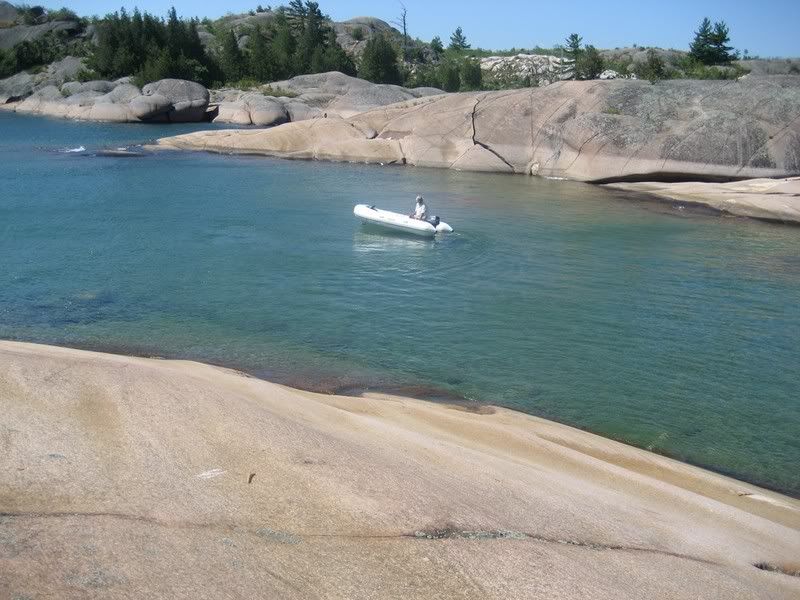 You can see from the shot above how beautiful and clear the water is in this area. Incredible really.
Here's a couple panoramic shots I took at the drop-off point which I later stiched together with Microsoft Digital Image Pro.

The channel seen in the above couple of pictures has a number of really neat little anchorages for those in-the-know. There were a number of spots where boats were tied right up to a rock wall with fenders down - just like a dock. There was even one spot where a boat had fenders down on both sides jammed into a tight little harbour. I think you'd also have to have time and patience on your side to pick-up one of these spots.
Early in our hike, we came across this little plaque, about 8" x 6", mounted to the rock. Obviously Carl liked this spot and I can clearly understand why.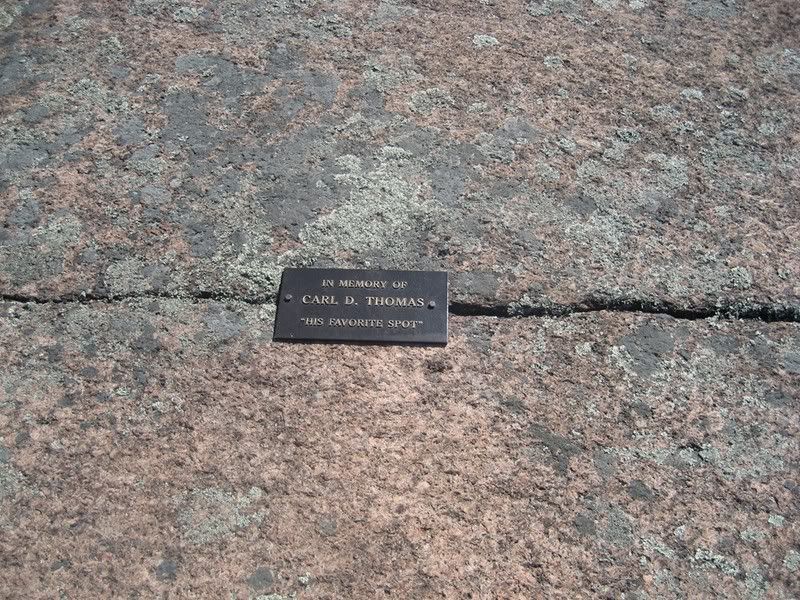 We hunted around the tree line but never did find an entrance to a trail. Since our taxi had moved on, we decided we'd make our way back towards the raft along the shoreline. Some of the shoreline wasn't all that passable really like this area which was nothing more than a rock face.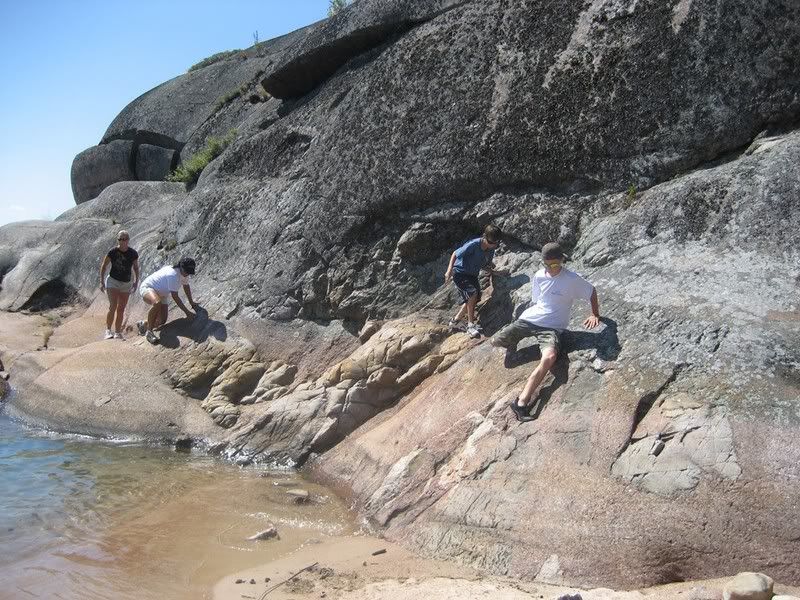 Nice day for a hike though...
I thought these rocks were pretty neat looking. Kind of reminicent of a whale's back breaching the water.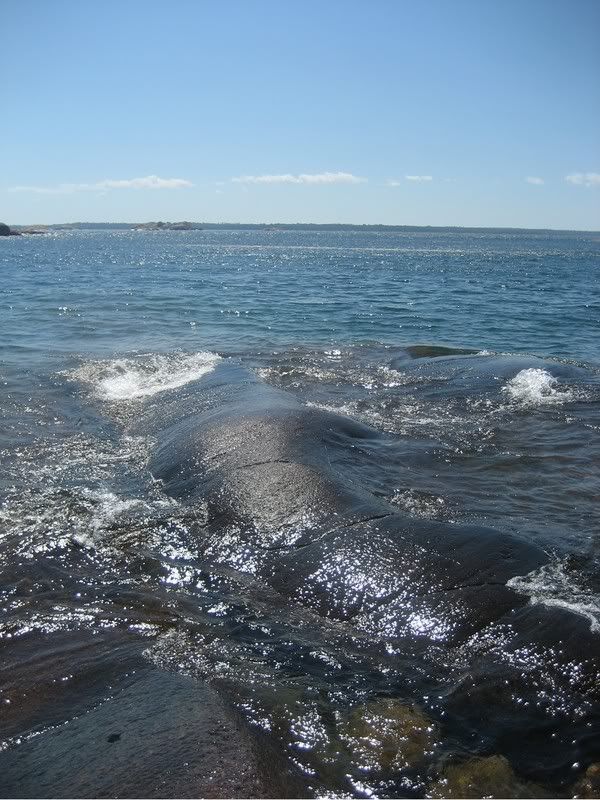 Ultimately, we called Greg on the VHF and asked for a pick-up at the sandy beach. Ended up being a short hike but a good adventure nonetheless.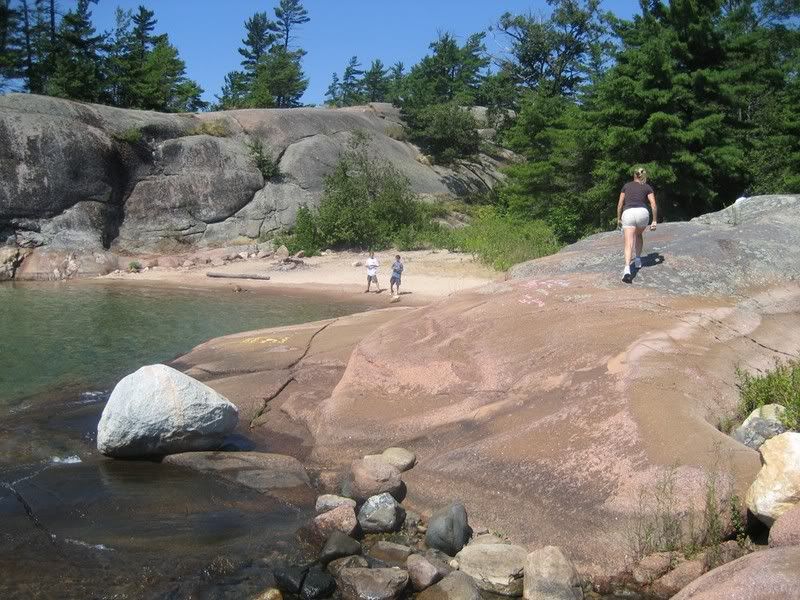 Finally our time was up at the Benjamins and it was time to head on to our next destination - Gore Bay. But that's another story...and another post...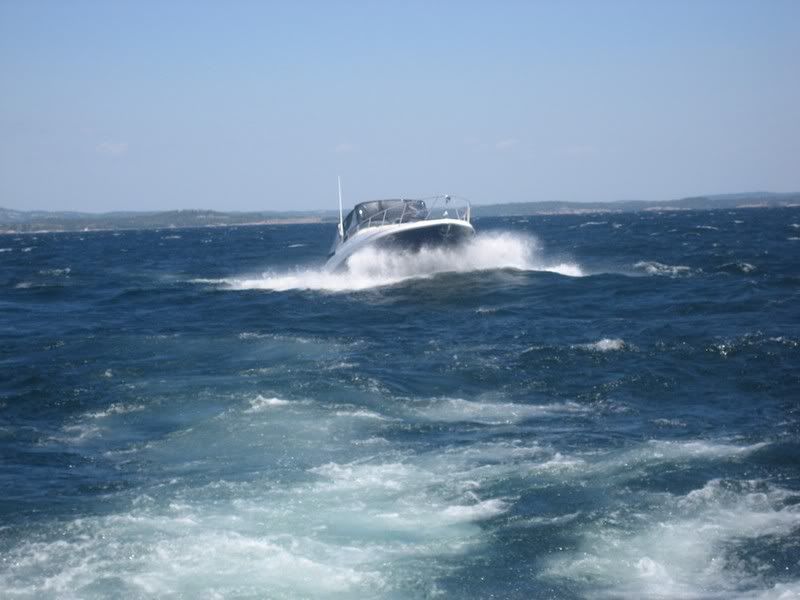 Hope you enjoyed the tour,
Paul